WEb Accessibility through VEt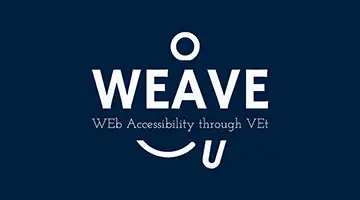 WEb Accessibility through VEt
Eramsus+ Small-scale Partnerships in Youth (KA210-YOU)

Views and opinions expressed are, however, those of the author(s) only and do not necessarily reflect those of the European Union or HADEA. Neither the European Union nor the granting authority can be held responsible for them.
JOIST Innovation Park (GR)
Inercia Digital S.L (ES)
According to the United Nations Convention on the Rights of Persons with Disabilities, access to information and communication technologies is considered a fundamental human right. The European Union is committed to promoting inclusion and improving the lives of its citizens. With the rise of digital transformation and the pandemic, a significant portion of daily life is conducted online. Web accessibility is an inclusive practice that enables everyone, especially those with disabilities or impairments, to access and interact with the online environment. Therefore, the main goal of the WEAVE project is to enhance digital inclusion by promoting web accessibility. To achieve this, it will:
Provide post-secondary Vocational Education and Training (VET) providers with accessible web design resources.
Encourage the online inclusion of people with disabilities.
Enrich the professional skills and employment prospects of web developers.
Preparing stakeholders for the implementation of the European Accessibility Act (EAA).
Activity 1:

Research and Best Practices Mapping
The activity entails research and best practices mapping to provide specific examples to practitioners in relation to the EU Web Accessibility Directive (WAD) and European Accessibility Act (EAA) principles. The desk research, focus groups and interviews of the activity will culminate in the WEAVE Best Practices Report.
Activity 2:

Creation of the Accessible Web Design VET Toolkit
This activity leads to the creation of the project's VET Toolkit. Specifically, the partners will design a specific section for the Toolkit, offering critical information on the relevant EU legislation and initiatives so that VET educators will be aware of them and able to provide that knowledge and highlight its importance to the students.
Activity 3:

Dissemination and Awareness-Raising Events
This activity aims to make the project results known to the target groups and a wider audience of stakeholders to promote their take-up and utilization by implementing local and international events. Thus, it will drive VET providers' adoption of the resources and integration into VET courses.