VELES Excellence Hub, a pioneering European project focused on accelerating innovation in smart health, was prominently featured in the recent InnoHealth Forum's round table discussion titled "Good Practices from the Health Data Space Domain in the EU – Use Case Scenarios."
InnoHealth Forum 2023 was a groundbreaking hybrid exhibition that took place on September 22-23, 2023. The event was organized by JOIST Innovation Park and the European Digital Innovation Hub Health Hub, specializing in the health and pharmaceutical sector. Operating under the auspices of the Ministry of Development and Investment and Elevate Greece, the forum aimed to serve as a nexus for innovation and collaboration in the healthcare sector. It provided a platform for experts, stakeholders, and enthusiasts to discuss, share, and explore the latest developments and best practices in health and pharmaceuticals.
On the first day of the two-day InnoHealth Forum, a round table discussion titled "Good Practices from the Health Data Space Domain in the EU – Use Case Scenarios" was moderated by Olga Galanets, Senior IT Project Manager of the International Data Spaces Association. The round table brought together experts and stakeholders working in the European Health Data Space, such as:
• Julien Adelberger, Senior Project Coordinator of the International Data Spaces Association,
• Irena Pavlova, EU Projects Manager at GATE,
• Dimitrios G. Katehakis, Head of the Center for eHealth Applications and Services at FORTH, Institute of Computer Science & Director of Hellenic Digital Health Cluster (HDHC),
• Maria Bigaki, Head of Program Management Office of Papageorgiou General Hospital,
• Charalampos Vassiliou, Digital Transformation Strategy and Innovation Advisor, Directorate for Digital Transformation and Digital Skills at the National Infrastructures for Research and Technology Network (GRNET S.A.).

During the round table, there was extensive discussion on various European initiatives related to the EU Health Data Space that are doing incredible work in the field. These included the HEALTH-X dataLOFT project, VELES Excellence Hub, the European Digital Innovation Hub smartHEALTH, the EHDEN network, and GR-HDAB.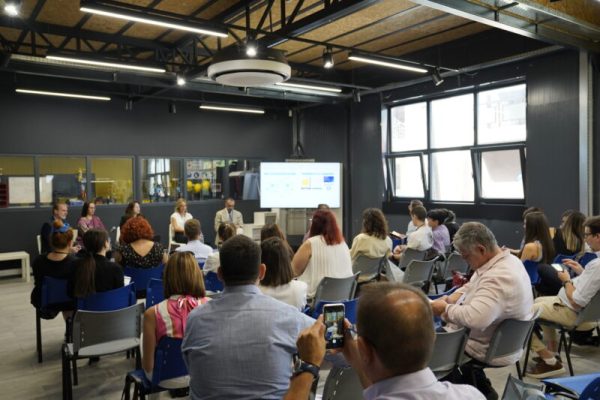 VELES' Role in Smart Health Innovation
Irena Pavlova captivated the audience with an insightful presentation on VELES Excellence Hub. She outlined how the project aims to foster innovation excellence in smart health, opening doors for new collaborative opportunities. Dimitris Katehakis continued by discussing the Hellenic Digital Health Cluster (HDHC), its members, objectives, and its role in the VELES project as the organization responsible for carrying out a pilot project for cancer treatment in Greece.
About VELES EXCELLENCE HUB
VELES is a dynamic consortium aimed at accelerating innovation excellence in smart healthcare. Officially launched on July 1st, 2023, and focusing on the widening countries of Bulgaria, Greece, Romania, and Cyprus, VELES develops novel methodologies and pilots to enable new collaboration opportunities and smart health innovations within a sustainable, excellent, place-based ecosystem driven by a Regional Health Data Space. This ambitious EU-funded project will conclude on May 31, 2027, leaving a lasting legacy of transformative impact.

For more information about VELES EXCELLENCE HUB or to explore collaboration opportunities, please do not hesitate to reach out via email at ggogolos@ied.eu. Your involvement has the potential to make a transformative impact in the field of smart healthcare.